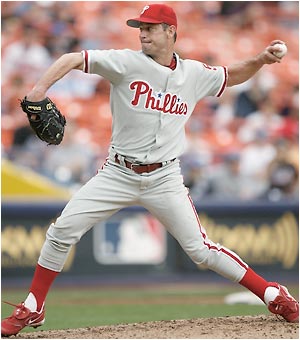 As I write this, the Phillies are losing to the Dodgers, 7-1.  Jamie Moyer started the game tonight.  Please don't get me wrong--Jamie Moyer has been a critical part of the success of the Phillies the past two seasons.  And at 46, he's only two years younger than me.  That he's still collecting a paycheck for pitching in the major leagues at that age is really pretty remarkable.  
However, Jamie has been awful so far this season.  He got hit HARD tonight--8 hits and 7 earned runs in 4.1 innings.  His ERA for the season is a brutal, awful 8.15.  Opposing players are hitting .346 against him so far this year.  He's allowed 12 homers in less than 40 innings so far this season.  
Moyer only throws the ball about 80 mph on a good day.  In order to be effective and get people out, he has to have command of all of his pitches.  He has to nibble, hit corners, and move the ball around.  There is almost no margin for error, and he walks a very fine line.  It would appear that after 25 years in the majors, perhaps Moyer has finally lost it.  A slow pitcher throwing fat pitches will get torched, and that's exactly what's been happening to Jamie.  
I hate to say this, because I love the guy, but maybe it's time for Moyer to think it's time to hang it up.  It's time to let J.A. Happ, who's been very effective coming out of the bullpen as the long reliever, to join the starting rotation, because the Phils need to start winning consistently if they're to have any chance of repeating this year.  It's still early, but every loss adds up and makes the task more difficult.